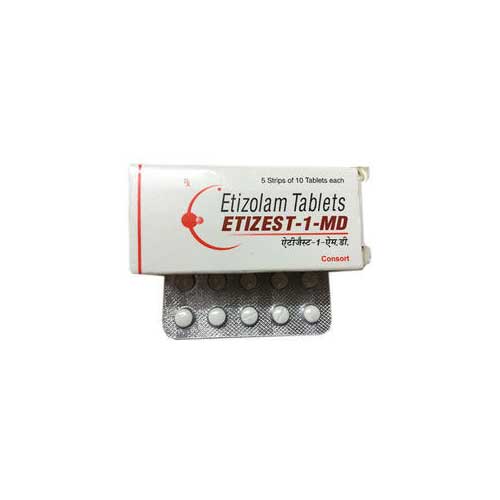 Etizest

Tablet

Etizolam is a type of hypnotics. Etizolam belongs to category of hypnotics and sedatives drugs. Etizolam is athienodiazepine drug which is a benzodiazepine analog. The etizolam molecule differs from most other benzodiazepines in that the benzene ring has been replaced by a thiophene ring. It possesses amnesic, anxiolytic, anti convulsion, hypnotic, sedative and skeletal muscle relaxant properties. Myasthenia gravis, acute angle closure glaucoma, pregnancy, breast feeding, hypersensitivity, serve respiratory failure or hepatic impairment. Anxiety, tension, depression, neurasthenic symptoms or sleep disorders in neurosis. Cervical vertebral disease, low back pain and tension headache.

Features:
Accurate composition
Longer shelf life
Precisely processed
specifications:
Manufacturer : CON-CONSERN PHARMA LTD
Etilee Tablets
With the support of our vendors highly experienced team of professionals, we are engaged in offering quality assured Etilee Tablets. It reduces the amount of HCV in the body by preventing the spread of the HCV within the body. In order to retain its effectiveness and long shelf life, this tablet is well packed utilizing the finest quality packaging material.
Features:
Highly effective
Pure
Available in various packaging option
Etilaam Tablets
Etilaam 0.5 mg Tablet is an effective anti-anxiety medicine that is similar to benzodiazepine class of medicines. It is used for the management of anxiety and short-term treatment of insomnia (sleeplessness).
Etilaam Tablet is used for Depression, Sleep disorders, Panic disorders, Tension headache, Low back pain, Cervical spine disorder and other conditions. Etilaam Tablet may also be used for purposes not listed in this medication guide.
Etilaam Tablet contains Etizolam as an active ingredient.
Etilaam Tablet works by generating soothing or calming effect on mood.
Features:
Strong composition
Effectiveness
Tamper proof packaging