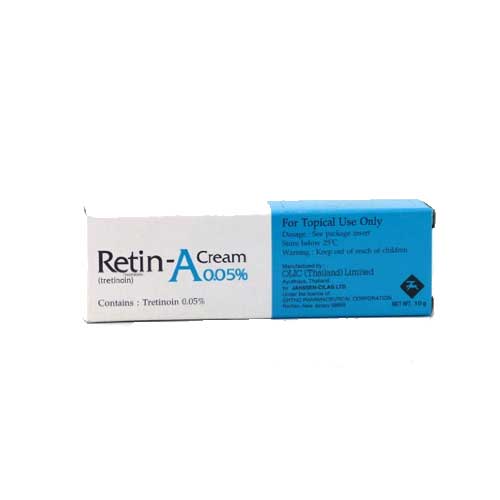 Retin-A Cream
Uses
This medication is used to treat acne. It may decrease the number and severity of acne pimples and promote quick healing of pimples that dodevelop. Tretinoin belongs to a class of medications called retinoids. It works by affecting the growth of skin cells.
How to use Retin-A Cream
Read the Patient Information Leaflet if one is available from your pharmacist. Consult your doctor or pharmacist if you have questions.
Wash your hands before applying this medication. Gently clean the affected skin with a mild or soapless cleanser and pat dry. Use your fingertips to apply a small amount of medication (about the size of a pea) in a thin layer, usually once daily at bedtime or as directed by your doctor. A gauze pad or cotton swab can be used to apply the liquid. For some preparations, you should wait 20-30 minutes after cleaning your face before applying this medication. Consult the label directions, the Patient Information Leaflet, or your pharmacist if you have any questions.
Use this medication on the skin only. Do not apply to the inner lip area or inside the nose/mouth. Do not apply to cut, scraped, sunburned, or eczema-affected skin.
Avoid getting this medication in your eyes. If this medication gets into your eyes, flush with large amounts of water. Call your doctor if eye irritation develops. Wash your hands after using the medication to avoid accidentally getting it in your eyes.
During the first few weeks of using tretinoin, your acne might appear worse because the medication is working on pimples forming inside the skin. It may take up to 8-12 weeks to notice results from this medication.
Use it regularly in order to get the most benefit from it. To help you remember, use it at the same time each day. Do not use a larger amount or use it more frequently than recommended. Your skin will not improve any faster, and it will increase the risk of developing redness, peeling and pain.
Since this drug is absorbed through the skin and may harm an unborn baby, women who are pregnant or who may become pregnant should not handle this medication.
This medication is available in different strengths and forms (e.g., gel, cream, solution). The best type of medication for you to use will depend on the condition of your skin and your response to therapy. Inform your doctor if your condition persists or worsens.
Features:
Accurate composition
Longer shelf life
Precisely processed
Specifications:
GENERIC NAME(S): Tretinoin
Accutane Capsule
Uses
This medication is used to treat severe cystic acne (also known as nodular acne) that has not responded to other treatment (e.g., benzoyl peroxide or clindamycin applied to the skin or tetracycline or minocycline taken by mouth). It belongs to a class of drugs known as retinoids. It works by decreasing facial oil (sebum) production. High amounts of sebum can lead to severe acne. If left untreated, severe acne may cause permanent scarring.
How to use Accutane Capsule
Read the Medication Guide provided by your pharmacist before you start using isotretinoin and each time you get a refill. Read and sign a Patient Information/Informed Consent form before you start taking this medication. If you have any questions about isotretinoin, consult your doctor or pharmacist before taking the medication.
Swallow capsules whole. Do not crush or chew them. Isotretinoin is usually taken twice daily for 15-20 weeks, or as directed by your doctor. Directions for most generic forms of isotretinoin state that it should be taken with meals. However, the FDA has indicated that the Absorica brand may be taken with or without food. Food helps increase absorption of this drug into your bloodstream. Ask your doctor or pharmacist for more information. Take this drug with a full glass of water, and do not lie down for 10 minutes after taking it.
The dosage is based on your medical condition, weight, and response to treatment.
Your acne may worsen during the first few days of taking this drug, and it may take up to 1-2 months before you notice the full benefit of this medication. If severe acne returns, a second course of treatment may be started after you have stopped taking the drug for 2 months. The manufacturer does not recommend long-term use of isotretinoin. Do not take more than the recommended dose.
Since this drug can be absorbed through the skin and lungs and may harm an unborn baby, women who are pregnant or who may become pregnant should not handle this medication or breathe the dust from the capsules.
Features: 
Accurate composition
Highly effective
No side effects
Specifications:
GENERIC NAME(S): Isotretinoin